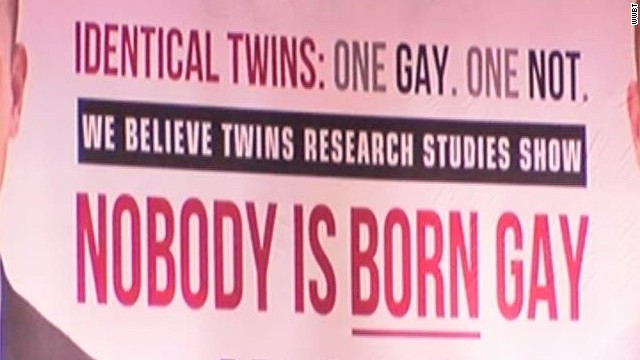 Born-Gay Hoaxes "Outed" by Real Science!
 James R. Aist
"You cannot prove a point by appealing to an assumption. Proof requires objective evidence."
Since the early 1970s, homosexual people have increasingly claimed that they were "born gay" and that, therefore, they could not change even if they wanted to. By repeating this claim over and over again for decades now, gay activists have managed to win over a large percentage of heterosexual "believers" to their cause, without any substantial basis in fact to validate the claim that they were "born that way." And yet, this hoax remains deeply ingrained in our culture at all levels. Therefore, it is necessary to re-examine carefully the scientific and other documentable facts concerning the origins and development of homosexuality to see if there is any truth at all to the "born gay" claim and its spawn, the "immutability" claim. The critical questions are 1) is homosexuality already determined at birth by biological factors and 2) is homosexuality, immutable (unchangeable). We now have several recent research and review articles to help us to arrive, once again, at the correct answers to these questions.
Is Homosexuality Already Determined at Birth by Biological Factors?
By far, the most powerful and reliable way to test the claim that homosexuals are born gay is to conduct scientific studies on data taken from large "twin registries." The data in these large data bases are obtained randomly with little or no sample bias and are relatively representative of twins in the general population. In twin studies, the "concordance" answers the simple question, "Where one twin of an identical pair is homosexual, what percentage of co-twins is also homosexual?" The concordance of the twin pairs is a measure of the level of influence of biological factors (generally assumed to be the genetic influence) on whatever trait is being studied, in this case, homosexuality. If homosexuals are born gay, then whenever one twin of an identical pair is homosexual, the co-twin will also be homosexual, giving a concordance value of ~ 100%, indicating a very strong, determinant genetic influence. A concordance value of ~ 20%-30%, on the other hand, would indicate a weak, non-determinant influence of genetics.
The reader is referred to Aist, 2012 (click HERE), Diamond and Rosky, 2016 (click HERE) and Whitehead and Whitehead, 2012 (click HERE) for more extensive reviews of the pertinent scientific literature on twin studies. The recent study by Zietsch, et al., 2012 (click HERE) can be used to illustrate representative research results obtained with large samples from twin registries. They used a very large sample (9,884) of twins from the Australian Twin Registry, one of the largest samples to date for twin studies of homosexuality. In this sample, there were 1,840 identical twin pairs (1,133 female and 707 male). Their calculated value of 24% concordance for homosexuality indicates a weak genetic influence. Moreover, their calculated figure of 31% for heritability of homosexuality also indicates a weak genetic component. This leaves around 68% of the variance in the data set represented by post-natal, "shared environment" and "residual" environmental influences combined.
That brings us to the conclusion that homosexuality is not already determined at birth by biological factors (e.g., genetics). Simply put, these results not only do not provide scientific evidence to support the "born gay" claim, they provide definitive and conclusive, scientific proof that "born gay" is, in fact, a hoax. Real science has "outed" the born-gay hoax.
Is homosexuality immutable (unchangeable)?
The claim that homosexuality cannot change is a direct extension of the claim that homosexuals are born gay, and, as we have seen above, "born gay" is, itself, a total hoax. Nevertheless, it is possible to evaluate this claim scientifically on its own merit. Previously, several authors have assembled extensive and persuasive evidence to show that sexual orientation, including homosexual orientation, is not fixed, but is, instead, amazingly fluid (Aist, 2012, click HERE; Sorba, 2007, click HERE; and Whitehead and Whitehead, 2016, click HERE). A new and comprehensive review article written by two supporters of so-called "gay rights", Diamond and Rosky (click HERE), focuses on four relatively new scientific studies that demonstrate conclusively that homosexuality is, in fact, a fluid trait. These studies all used large data bases that followed the self-identified sexual orientation of individual subjects over long periods of time. Such "longitudinal" studies are the only way that the fluidity of sexual orientation in a representative sample of people can be documented and quantified. All four of these studies gave similar results regarding the considerable fluidity of sexual orientation. Here are some of the highlights, as reported by Diamond and Rosky:
In just 7 years, 30% of young adults with same-sex attraction changed to opposite-sex attraction;
Most, but not all, of this change involved bisexuals;
Of the homosexual young adults whose sexual orientation changed, 66% changed to heterosexuality;
All of these changes in sexual orientation occurred spontaneously;
Sexual orientation involved some degree of choice for many (10% of gay men, 30% of lesbians and 60% of bi-sexuals), according to one of the studies cited;
Homosexuality is fluid, not immutable;
The "born gay" claim is unscientific (i.e., not supported by the scientific research).
Perhaps the most often utilized and reliable of the several databases employed in such studies is the one called "Add Health." Using this database, Udry and Chantala (Journal of Biosocial Science 37:481-497) found that 83% of 16-year-old, adolescent gay boys were neither gay nor bisexual one year later, at age 17. This same figure can be arrived at by doing the math on the data published by Savin-Williams and Joyner (Archives of Sexual Behavior 43:413-422), also from the Add Health database. Finally, Whitehead and Whitehead (click HERE) used the same Add Health data set to calculate that 98% of the 16-year-olds who were either homosexual or bisexual moved towards heterosexuality by age 17. In these studies, there was also a small percentage that moved from heterosexuality toward homosexuality. All of these changes in sexual orientation were spontaneous.
Whitehead and Whitehead (click HERE) also made the following pertinent observations from the published scientific literature:
Homosexuality is much more fluid than is heterosexuality, as 50% of homosexuals become heterosexual, but only 1.9% of heterosexuals become homosexual;
One study reported that 63% of lesbians and 50% of gay men, from age 18 to age 26, changed sexual orientation at least once;
Because of the higher levels of sexual orientation fluidity among homosexuals, at any given time there are more ex-gays than actual gays in the general population;
All of these reported changes in sexual orientation were spontaneous.
Mayer and McHugh (click HERE) recently published an extensive review of the scientific literature on sexual orientation. They supported the conclusions of others that:
There is strong scientific evidence that sexual orientation is fluid;
Women's sexual orientation is consistently more fluid than men's;
The sexual orientation of adolescents is more fluid that that of young adults;
Choice is a factor in the development of homosexuality.
So, in view of the sound, scientific evidence discussed above, we can conclude that the answer to this question is, "No, homosexuality is not immutable, but is, in fact, quite fluid." Whitehead and Whitehead (click HERE) even went so far as to state that, "Rather than homosexuality being an unalterable condition, it is actually a good example of a changeable condition." Thus, as with the born-gay hoax, real science has "outed" the immutability hoax.
Sexual Orientation Change Efforts (S.O.C.E.)
In view of the considerable amount of spontaneous fluidity of homosexuality, it should not be surprising that dissatisfied homosexual people can, in fact, change through S.O.C.E., the deceitful denials of gay activists notwithstanding. The success of efforts to help dissatisfied homosexual people change their sexual orientation toward heterosexuality through therapy and counseling is an integral part of the evidence against the "born gay" and the "immutability" claims. Such changes in sexual orientation have been amply documented for both secularly (click HERE) and religiously (click HERE) mediated efforts. Both approaches can be successful at a rate (~ 25%-30%) that is comparable to that for psychological disorders and for behavioral problems, such as alcoholism. While most of the individuals seeking S.O.C.E. have not experienced a 100% reversal in all aspects of sexual orientation, many, by their own testimony, have achieved substantial and meaningful changes in their sexual orientation that enable them to live celibate or exclusively heterosexual lifestyles that satisfy their personal goals. For the originally dissatisfied homosexual person, that is real, substantial and meaningful change. And there are thousands of former homosexuals who testify that they have changed (for examples, click HERE).
If homosexuality were determined by biological factors and immutable, then such transformations would not be possible. Thus, S.O.C.E. have "outed" both the "born gay" and the "immutability" hoaxes.
What Difference Does It Make?
The short answer is, it makes a huge difference, as discussed by Mayer and McHugh (click HERE) and Whitehead and Whitehead (click HERE). The homosexual movement has used the "born gay" hoax and its correlate, the "immutability" hoax, to not only deceive the public and gain popular support for their "gay agenda" (click HERE), but they have managed to deceive also medical societies, church leaders, teachers, politicians and judges at all levels. The result is that, based largely on these and other hoaxes perpetrated by the homosexual movement (click HERE, HERE, HERE, HERE and HERE), many churches, teachers and politicians have come to believe (erroneously) that homosexual behavior is not only normal, but also natural, healthy, desirable and moral. This development represents a serious spiritual and moral decay in America.
Furthermore, politicians and judges are hard at work codifying homosexuality into laws (e.g., so-called "gay marriage" and anti-discrimination laws). Laws criminalizing the practice of S.O.C.E. to help children and adolescents overcome unwanted homosexuality (click HERE and HERE) are particularly heinous, because they selectively deny professional help to people who are at the most sexually confusing and unstable phase in their lives. This gives gay activists an "open season", as it were, to target these vulnerable minors for recruitment into a life of homosexuality without interference from contrary influences, such as professional counselors and therapists. And, in the process, children and adolescents are denied their right to self-determination and parental rights are trampled underfoot, all in the name of sexual liberty.
If not checked soon, the homosexual movement will seriously erode our First Amendment right to the "free practice of religion" in America. Already, sexual liberty is being put ahead of religious freedom, and laws have been passed forcing even churches, under penalty of law, to accommodate homosexuals and transgenders on their terms (click HERE and HERE). The "gay agenda" is a mammoth social experiment – based largely on lies, myths and hoaxes – that is reaping dire consequences for America and proving to be a mistake of biblical proportions.
Summary
Multiple, scientific studies of homosexuality in identical twin pairs have demonstrated conclusively that biological factors (including genetics) do not determine the development of homosexuality. "Born gay" is a hoax. Several large-scale, longitudinal, scientific studies, numerous personal testimonies and the success of both secularly and religiously mediated sexual orientation change efforts prove that homosexuality is, in fact, quite fluid, not immutable. "Immutability" is also a hoax. Unfortunately, the homosexual movement has been able to dupe our society and its religious leaders, politicians, medical societies and judges into believing their lies, myths and hoaxes. This charade is causing serious damage to the spiritual and moral condition of American society, and it is eroding the constitutional provision to practice religion freely, as sexual liberty is increasingly being placed above religious freedom in the formulation and application of anti-discrimination laws and ordinances. The homosexual movement is a social experiment that will have dire consequences, unless America repents and God intervenes.
(For more articles on homosexuality by Professor Aist, click HERE)