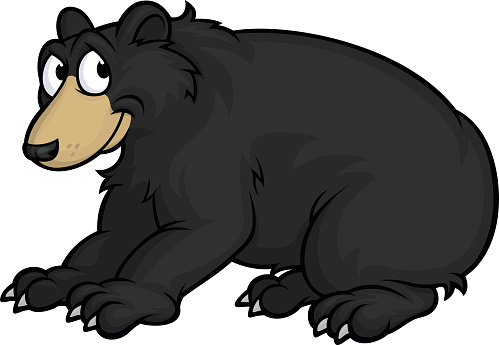 Well, It Could've Been A Bear!
James R. Aist
"Things aren't always as they seem!" – Carl Hurley, Kentucky Humorist
The background for this short story is that, just a few weeks before this happened, a front-page article gave an account of a young woman who was camping in a national park out west when she was attacked by a large bear and partially eaten…alive! The report was gory and very frightening, so I'll spare you further details. And, wouldn't you know it, when we arrived at our campground destination in the Adirondack Mountains of New York State, a forest ranger warned us that there had been a couple of bear "episodes" in this very campground within the past couple of weeks! So, it was with a bit of trepidation that we proceeded to pitch our tent and set up camp that evening.
Now, we were not yet fully apprised of the wiser ways of setting up camp when in the presence of hungry black bears that were accustomed to to being at the top of the food chain. So, we foolishly left a latched basket of our food on the picnic table, along with a locked cooler of meats and other goodies placed on the ground. But, just in case, I did make sure that I had a hatchet in the tent with me. The first night came and went without any troubling encounters, save for a few sounds of, apparently small, harmless night creatures pausing briefly to check out the possibilities for sustenance. But, that was about to change.
On the second night, we had just drifted off to sleep when we were awakened suddenly by much louder, and sustained, sounds of something trying to get at our food, something obviously much larger than a small, harmless night creature. Moreover, we were sure that we could even hear breathing and some muffled, snorting sounds, such as might be expected if it were a black bear! So, "What do we do now?", we wondered out loud. At first, we were going to just ride it out and hope that, whatever it was, it would give up and go away. But, alas and alack, that was not to be.  The noises just kept on getting louder and louder, and, we surmised, more violent. Then, assuming it must be a black bear, I realized that I had no choice but to go on the offensive, as I was determined to go down fighting!
I don't know how I thought I was going to fend off a black bear with only a hatchet in hand, but that was all I had in terms of weaponry. So, I firmly gripped the handle of the hatchet, took a deep breath, quietly unzipped the door of the tent, and then burst forth, hatchet held high, to confront this massive beast, with at least the element of surprise going for me. At first, I wondered if I had scared him away, because there was no such beast in sight. And that's when I saw them: two, little, masked, ring-tailed, would-be bandits just trying to survive. One was trying to get into the basket, while the other was working on the cooler.
These darling little raccoons, quickly recognizing that they were out-manned, scurried off into the night, leaving us to have a good laugh at ourselves before retiring for the remainder of the night. Alright, laugh if you will, but hey, we both know it could've been a bear!
(To read more of my short stories, click HERE)