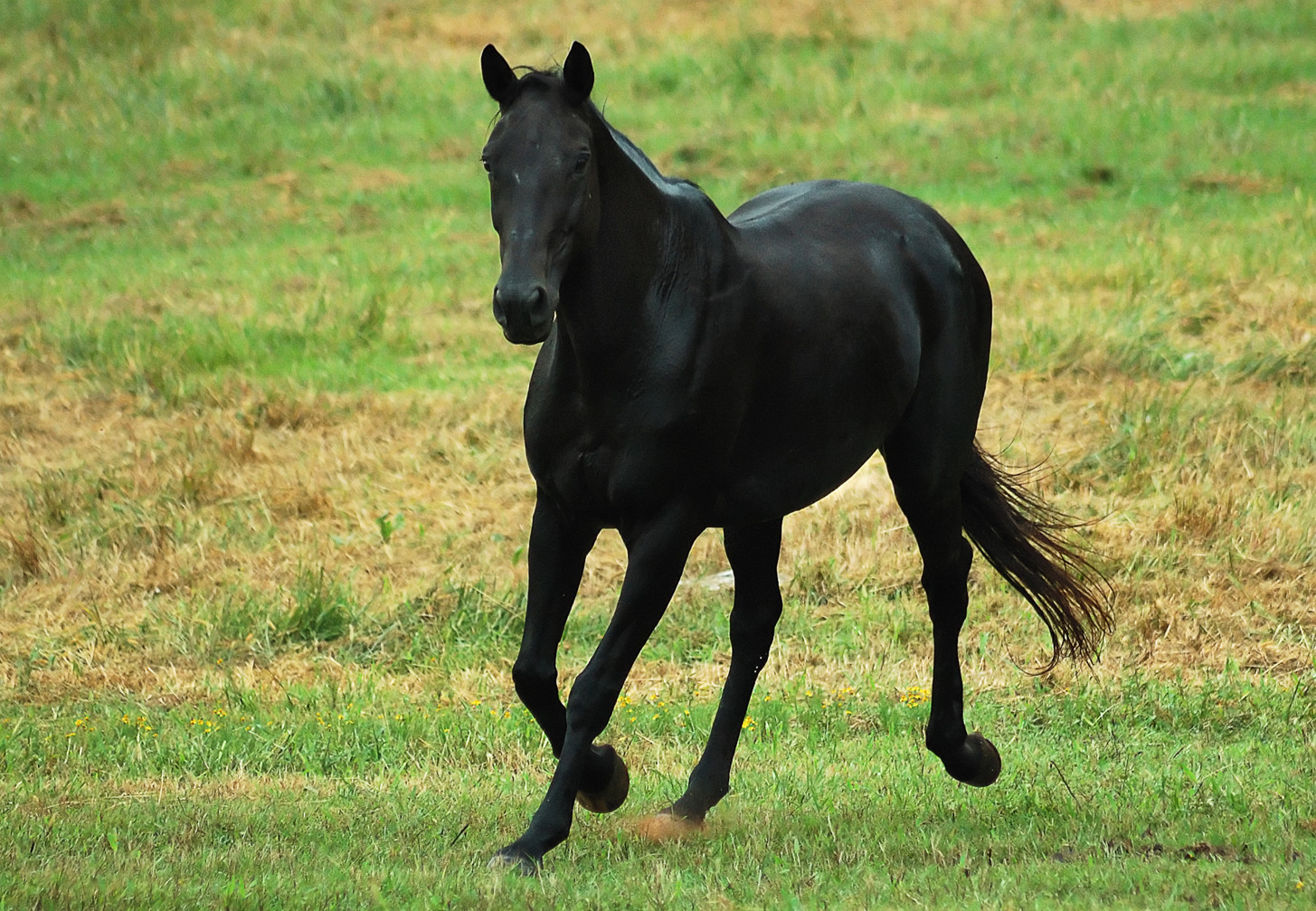 Whoa Nellie!
James R. Aist
Growing up on a small dairy farm in central Arkansas in the early 1950s sure had its moments, some more noteworthy than others. I was the youngest of four brothers, and I was, at times, eager to be like my two oldest brothers. They were more involved in manly, farm activities than I was, and I envied that.
We had other farm animals besides 40 milk cows and a bull. Of particular interest to me were our two horses. One was a run-of-the-mill work horse, a brownish stallion we called Tony. Tony was large and strong, and he had an attitude. He was so dangerous that Mama and Daddy would only let my two oldest brothers ride him. And that was fine with me, because I was afraid of him. But I still wanted to ride a horse, like my oldest brothers did.
Now the other horse was a beautiful black mare. I don't remember her name, so for purposes of telling this story, I will refer to her as Nellie. She had a much more gentle spirit about her than did Tony, and she was much less dangerous to ride. So, about the time I turned eight years old, I was given permission to ride her.
At first I would ride her bareback, because it was difficult for an 8-year-old to saddle her up. The first time I rode her she seemed OK with me on her back, but she showed some reluctance to follow the "instructions" I gave using the reins. She wanted to go where she wanted to go, not always where I wanted her to go. Nevertheless, the ride ended without incident, and I enjoyed it. I can ride a horse…Yee-Haw!
With one successful ride under my belt, I was eager to ride again, still bareback. This time I felt more confident and relaxed, so I decided to not try and dictate exactly where she went, but to just enjoy the thrill of riding a horse without the hassle of controlling it. What could possibly go wrong, right? Now there was a large oak tree in the pasture field where I rode Nellie, and she and Tony liked to spend time under its shade during the hot summer days to keep cool. So, I was not surprised when Nellie made a bee-line for that tree, using a slow, steady gait. I was enjoying the ride so much that I didn't notice the low-hanging limb directly ahead in the direction Nellie was taking. I can't explain why, but when I did spot that limb, I just assumed that Nellie would navigate around it, for my sake. She was, after all, a gentle, kindly beast, right? Well, I was about to find out that Nellie had a mean streak in her. As we approached that low-hanging limb, I noticed that Nellie was still heading straight for it. Then I noticed that the limb was lower than I had first thought it was. Then I noticed that I couldn't duck low enough to miss that limb. Then I noticed that Nellie was ducking the limb. Then I noticed that the limb hit me in the chest. Then I noticed that I was flat on my back looking up at the tree. Then I noticed that I was unhurt. Then it occurred to me that Nellie did that on purpose! Do you have any idea what its like to be outsmarted by a horse and end up flat on your back? Well, I do. Fortunately, no one was watching; I checked.
Because I am not one to give up easily, I purposed in my heart to ride again, this time with a saddle firmly in place to help prevent a repeat of the previous incident. And I was going to make the most of it this time; I was going to ride Nellie at full speed, just to find out how fast she could go! So, up the driveway and down the road we went, in the direction of the graveyard. (OK, I know what you're thinking, but no, the graveyard has no particular significance to this story. I am, after all, sitting here writing this story, am I not?) Anyway, I had a plan for getting Nellie to open up and run like the wind: I would ride her slowly about a quarter of a mile toward the graveyard, stop, turn her around toward the house, then back her into the ditch so she would have a good place from which to launch, then kick her sharply in the abdomen with both feet while yelling "HEE-Yah!", and then hold on for dear life.
Everything was going perfectly according to plan until I got her backed into the ditch. Then, as I was about to "spur" her into action, she suddenly shook and squealed and took off for home lickety-split, as if shot out of a cannon! I was both surprised and terrified at first, but I soon realized I could hold on. So that turned out to be a most thrilling and exhilarating experience, and I enjoyed it immensely. That is, until I realized that Nellie was now leaving the road at full bore and heading across the lawn and Mama's Irises, straight toward the milk barn. She managed to come to a screeching halt in front of the barn, and I was unharmed, again. I can't say as much for the Irises, however. Mama came running out of the house demanding to know why I had ridden right over her Irises! Of course, I had no defense; Nellie goes wherever she wants to. Mama soon cooled down and opted to let me live to ride another day. Just not through those Irises!
All things considered, it was quite a successful escapade for me, despite the surprises. I had achieved my main goal, and let me tell you, that horse could flat out run!
After Word
For many years, when I would cogitate on this thrill ride at the expense of Mama's Irises, I couldn't figure out what it was that had spooked Nellie in the ditch. Then one day I put two and two together: in those ditches along the dirt road we lived on were many wasp nests hanging from the bushes growing there. And those nests were crawling with wasps, just waiting to attack and sting any creature clueless enough to disturb them. And that day, Nellie just happened to be that creature. That's my story, and I'm sticking with it!
(To read more of my short stories, click HERE)