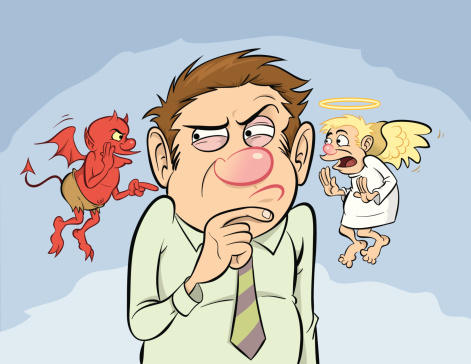 The Promised Witness Shows up
James R. Aist
"The Spirit himself testifies with our spirit that we are God's children." (Romans 8:16)
This encounter happened in the mid-1980s, when my first wife and I were struggling with the ramifications of an impending divorce. For me, these were times of incredible stress, anxiety, sadness and depression. I could see my most cherished dreams – dreams of a lifelong marriage, a stable and lasting family life, and three children brought up to know and love God – I could see all of that disintegrating before my very eyes. And there wasn't anything I could do about it. I had already tried everything I could think of, to no avail.
It was when I was at my lowest point, crying out for relief from the stress and confusion, that Satan literally spoke into my mind one day, as if he were sitting on my left shoulder. He said words to this effect: "Jesus isn't the son of God. You don't really believe that he is, do you? Look at how much stress that's causing you. Why don't you give up on that and just go along with the flow? That will make things a lot easier for you." And he repeated the same message. But, when he would say this to me, something glorious would happen. As if He were an angel sitting on my right shoulder, the Holy Spirit would simply speak into my mind saying, "Remember what I told you when you were saved: 'Believe that Jesus is the son of God. Don't ever let go of that; it's the most important thing you have.'" When this back and forth, spiritual battle for my soul between Satan and the Holy Spirit was over, I was still holding on to my faith in Jesus, and Satan was defeated. Praise be to God!
I found out later that this witness of the Holy Spirit was a direct fulfillment of Jesus' prophecy in John 15:26, "When the Counselor comes, whom I will send to you from the Father, the Spirit of truth who goes out from the Father, He will testify about me…" And Romans 8:16 says "The Spirit himself testifies with our spirit that we are God's children." That witness of the Holy Spirit was the only thing that got me through that dark and sinister time of intense, diabolical testing. What's more, that witness of the Holy Spirit helped me hold on to the only real friend I had at that time, Jesus Christ. I believe that Proverbs 18:24 is speaking of Jesus when it says "… there is a friend who sticks closer than a brother."
The lessons I learned from this encounter with God and the devil are these: When everything and everyone else has failed you, remember that you still have Jesus; He is all you need to see you through; and, the Holy Spirit will ensure that Jesus will remain your friend no matter what, or who, attacks your faith (Romans 8:38-39).
Of course, these lessons apply only to those whom God has saved. Have you let God save you yet? If not, what are you waiting for? He's waiting for you!
(To read more of my articles with a biblical theme, click HERE)