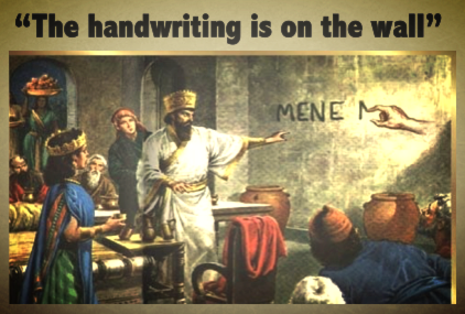 The "Handwriting" on the Wall
James R. Aist
"… I have now come to give you insight and understanding." (Daniel 9:22)
From the time I was eight years old, God has been communicating with me, now and then, through visions. I was forty years of age when this vision came to me. It was springtime, 1985. One Sunday morning I began to pray earnestly, asking God what He wanted me to do with the rest of my life. Just four days later, in the middle of the night, I was awakened suddenly and sat straight up in bed, aware of the presence in the room of a "spirit being." At first, there was nothing visible to explain this phenomenon. By this time in my Christian walk, I had enough Bible knowledge (e.g., 1 John 4:1) to "test the spirits", so I said to it, "Who are you?" There was no verbal response, but something bright then appeared on the wall to my left. So, I looked in that direction and saw, in large, white, bold lettering, a Scripture reference: "DANIEL 9: 22…" As I was pondering that message, the writing slowly faded away. Through this vision, God was directing my attention to the book of Daniel, chapter nine, verses 22 and following. Realizing that this was no ordinary spiritual experience, I made note of the message on the wall and went back to sleep, with the intention of looking into the matter thoroughly the next morning.
Now, up until then, I had virtually no idea what was in the book of Daniel, except for the story of "Daniel in the Lions' Den." So, the next morning, with the aid of a study guide, I carefully studied the book of Daniel through twice. For our reference, here is the passage of Scripture to which I had been directed: 21 indeed, while I was speaking in prayer, the man Gabriel, whom I had seen in the vision at the beginning, being caused to fly swiftly, touched me about the time of the evening oblation. 22 He informed me and talked with me, and said, "Daniel, I have now come to give you insight and understanding. 23 At the beginning of your supplications the command went out, and I have come to tell you, for you are greatly beloved. Therefore understand the matter and consider the vision: 24 "Seventy weeks have been determined for your people and upon your holy city, to finish the transgression, and to make an end of sins, and to make atonement for iniquity, and to bring in everlasting righteousness, and to seal up the vision and prophecy, and to anoint the Most Holy Place.
Let me share with you now my understanding of the message that God was giving me through this vision. First, in verse 22, Gabriel, speaking to Daniel of a prophecy given many years earlier by the Prophet Jeremiah, said "… I have now come to give you insight and understanding." God was saying to me that He was giving me insight into and understanding of the Scriptures that I did not already possess. And second, I found out that Chapter 9 is considered to be the "backbone of Bible prophecy", because, in Chapter 9, it predicted to the day when Jesus would make His triumphal entry into Jerusalem as the long-promised Jewish Messiah! God was confirming to me the accuracy and reliability of the Bible as His Word and calling me to become a student of the Bible then and there, no longer just a casual and occasional reader of it. And, I have the sense that, from that time forward, I have experienced a heightened ability to understand and grasp the meaning of the Scriptures, perhaps similar to the impartation on the road to Emmaeus, as recorded in Luke 24;45, "Then He opened their minds to understand the Scriptures."
You may wonder how this vision impacted my life. Simply put, it set my life on a different course. After all, this vision was God's way of answering my question concerning what He wanted me to do with the rest of my life! Since that day, my worldview has become thoroughly and unequivocally biblical, and I have become, not only a student, but also a teacher, of the Bible. And, I now have the courage of my convictions, courage to stand boldly and publicly for the truths of God's Word. To God be the glory, all of it!
(To read more of my articles with a biblical theme, click HERE)